Unified Signature is a seamlessly joint functionality that Remote Signature and Local Signature can offer together. It provides combination of all best parts of these core functionalities in form of Unified Signing Solution.
Methics offers solutions for Mobile Identity, Mobile Signature Services, PKI services and Document Signing. Our solution comprises of Kiuru Mobile Signature Service Provider (MSSP) Platform including Remote and Local Signature creation devices. Kiuru MSSP is a complete platform for providing a cost-efficient, managed digital identification and signature service for customers. Methics Unified Signature Solution utilizes Kiuru MSSP v 6.0, Alauda PBY 2.0 and Alauda P38 2.0, eIDAS compliant Kiuru SAM to deliver a standard interface to connect applications and online portals of all kinds to the Mobile ID service.
Unified Signature solution provides wPKI clients like smartphone App, mobile SIM card, eSIM, and CSC connecting API for desktop clients. Solution uses Kiuru Mobile Signature Service Provider (MSSP) platform to establish an open, standard based and secure channel between Alauda Wireless PKI Clients. The tamper-resistant SIM card or eSIM in the phone to deliver strong electronic identities to end users. For smartphones Alauda PBY app acts as a Qualified Signature Creation Device (QSCD).
Methics Unified Signature Solution has been deployed by Governments for their National PKI projects, Certificate Authorities (Trust Service Providers) and Mobile Network Operators across EMEA & APAC regions.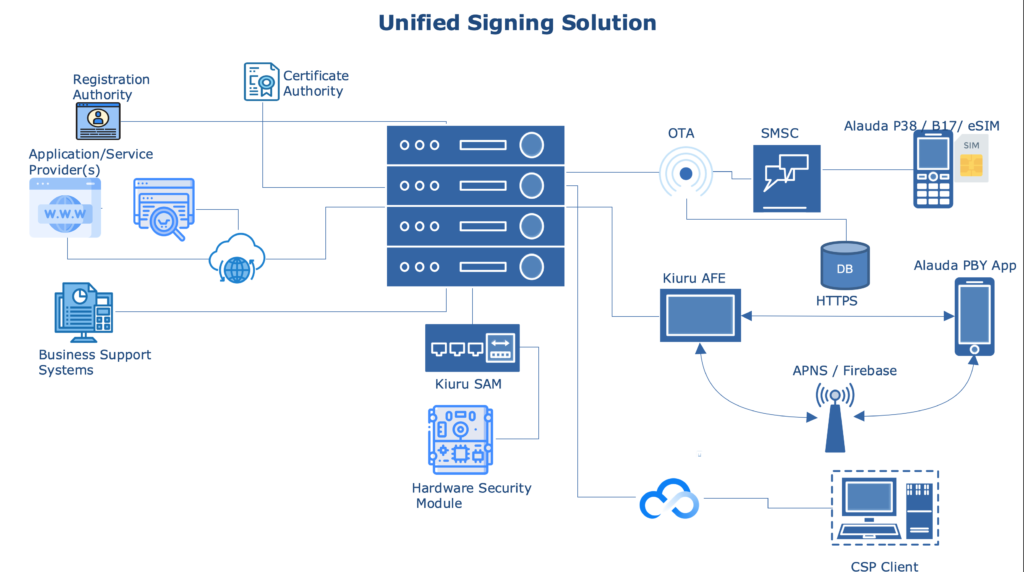 Methics has a long experience of working with leading:
– SIM card manufactures of the world (such as Gemalto/Thales, Giesecke and Devrient, IDEMIA, XH Smart Tech, Eastcompeace, Workz) to have a standard-based applet Alauda P38 (Alauda B17) work with their cards to perform PKI operations
– HSM providers of the world (such as Utimaco, nShield, Securosys, Thales), making the solution compatible with external hardware
– eSIM platforms to make Alauda P38 eSIM compatible with standards to perform PKI operations.
Feel free to get in touch with us if you want a user-friendly software for your TSP, implement authentication/sign in service, document Signature solution, or want to increase your user adoption of PKI services.
---
References:
OASIS: OASIS paper for DSS Extension for Local Signature Computation Version 1.0
ETSI: ETSI TS 119 432 Electronic Signatures and Infrastructures (ESI);Protocols for remote digital signature creation:
EN 419 241-1: Trustworthy Systems Supporting Server Signing – Part 1: General System Security Requirements
EN 419 241-2: Trustworthy Systems Supporting Server Signing – Part 2: Protection profile for QSCD for Server Signing