Kiuru AMS Server
The Kiuru AMS server is a clustered WPKI communication service to support Alauda WPKI Client, and it is a resident service at Kiuru HomeMSSP server.
The Kiuru AMS Server provides unified messaging API for the HomeMSSP when talking to Alauda WPKI Clients, and separates details of the particular OTA communication dialects from HomeMSSP.
It supplies also callback reference information for all requests sent from HomeMSSP to the Alauda WPKI Client at the SIM, and routes the received responses to address that was supplied in the request. The OTA protocol (ETSI GSM 03.48) does not provide any of that.
Multiple HomeMSSP's can share an AMS. The AMS protocol exists in two variants: internal call, and external SOAP service.
In Geo-redundant setup, in order to avoid need for global data synchronization (which isn't available during site communication split) it is necessary to have separate AMS and OTA systems at each site with their own SIM communication keys and counters. At site 1 the counter and key 1 is used, while at site 2 the counter and key 2 is used. The Alauda Encryption and GSM 03.48 protocols both have up to 16 keys to enable parallel active geo-redundancy.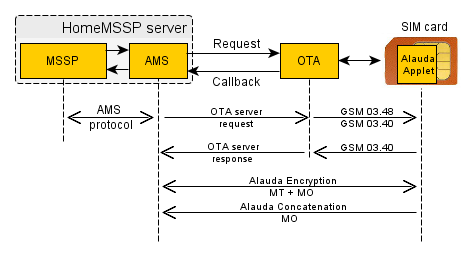 Kiuru AMS Product Factsheet