Mesh
ETSI TS 102 207 introduces the Mesh as an interoperability network between MSSP entities. Mobile Signature roaming requires:
A dispute resolution policy between Application Provider, end-user, Home MSSP, Acquiring Entity and all the intermediaries involved in the roaming of the transaction
Commercial agreements between the entities which want to provide connections between different mobile networks and application providers
Interoperability between Mesh members
The aim of a resolution policy is to find a path within the Mesh so that the Application Provider is able to contact the end-user without any knowledge of the Mesh structure. Typically end-to-end roaming resolution is done by using a numbering plan (ITU E.164) together with mobile number portability services. The roaming resolution inside the Mesh is based on:
The Mesh configuration
The target user's MSISDN number
The original transaction route (for MSS_StatusReq and MSS_ReceiptReq requests referring on original MSS_SignatureReq)
An MSSP identification in a signature request
MSSPs identified in MSS IdentityIssuer/AdditionalService elements
The entities join the Mesh in order to define common commercial terms and rules corresponding to a Mobile Signature Roaming Service.  The first commercial implementation is the FiCom MSS network agreement between MNOs (In Finnish "Luottamusverkosto").
The MSSP isolates the end-points (Application Providers and Mobile Users) from the Mesh, and therefore semantic and protocol interoperability is needed only between Mesh members. MeshMembers should use MSSP implementations that conform to ETSI standards to achieve this.
The standards require only that a Mesh end-point can communicate requests/responses by using ETSI TS 102 204 over the Mesh.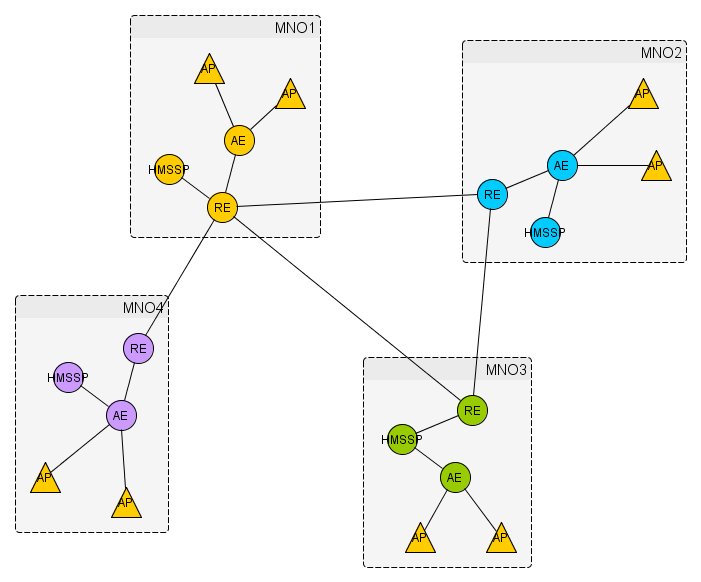 Interoperability domain: the mesh

Mobile Signature roaming itself requires commercial agreements between the entities that facilitate it. In this respect, we assume that MSSP entities will join in order to define common commercial terms and rules corresponding to a Mobile Signature Roaming Service. This is the concept of a Mobile Signature Roaming Service, which the present document represents as a Mesh of members undertaking one or several of the following roles NOTE: This list is not exhaustive:

Acquiring Entity (AE): an entity performing this role is one of the entry points of the Mesh, and handles commercial agreements with APs. The entry point in the Mesh may be for instance an MSSP, or an aggregator of Application Providers in the context of particular communities of interests (e.g. payment associations, banks, MNOs etc.). That's the reason why we define this as a more abstract role. An Acquiring Entity implements the Web Service Interface specified in TS 102 204 [8]
Home MSSP (HMSSP): this is the MSSP that is able to deal with the current enduser and the current transaction
Routing Entity (RE): any entity that facilitates the communication between the AE and the home MSSP